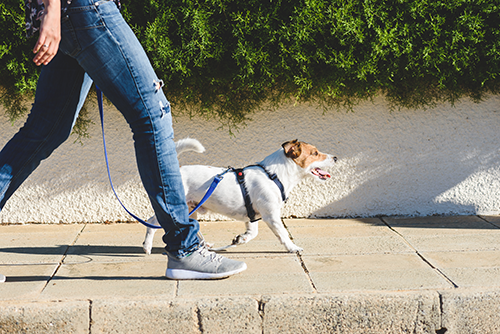 Making a New Year resolution to "walk more often" may sound strange to some, but it can be a significant one for your dog. Walking is a great low-impact exercise that give you time to bond with your pet, and provides an opportunity to reinforce some leash rules.  
(And this doesn't just have to apply to dog owners: cats can be trained to walk on a leash for some fresh air!)
Here's a few thoughts that might help get you moving: 
If your dog has less-than-stellar behavior when meeting other dogs, or your dog is constantly darting across your path to get a sniff of everything, walks can be more stressful than relaxing. And we hate to be the truth-teller but talking on your phone or texting while walking is a sure-fire way for your dog to get away with bad behavior. When out walking with your dog, focus your attention on your friend at the end of the leash! Correct his behavior, offer praise frequently, and he will start to pay attention to you. 

 

A walk – for both you and your dog – can quickly become boring if you take the same route day. Switch it up occasionally by walking a new route. You might be surprised at what changes are occurring in your neighborhood, and you might meet new people and new furry friends too! 

 

If your dog is used to short walks and you would like to increase the length of your outings, gradually increase the time you are out walking. After a few weeks, the distance you and your dog can cover will noticeably increase. But always be mindful of your dog's behavior: if your dog starts slowing down or panting excessively, it is time to end the walk.

 

During the winter months, early morning and late afternoon/evening walks may be done at dusk or in the dark. If these are the times of day that you walk your dog, make sure that both you are visible to motorists, cyclists, and other dog walkers or pedestrians. Lighted collars and/or leashes (or clip-on lights for collars) available, and if your dog wears a coat or sweater, be sure it has reflective tape on it. For your own safety, wearing a light-colored jacket, or one with reflective tape ensures your safety

as well.

 

Be sure to carry water for both you and dog, especially during warm weather and on long walks. Dogs can drink water from your cupped hands or you can carry a collapsible water dish or water bottle attachment. 

 

If you find it hard to motivate yourself to walk, especially in the winter months, walk with a friend or find a group of dog walkers in the neighborhood. Both you and your dog benefit from a little socialization while you walk!