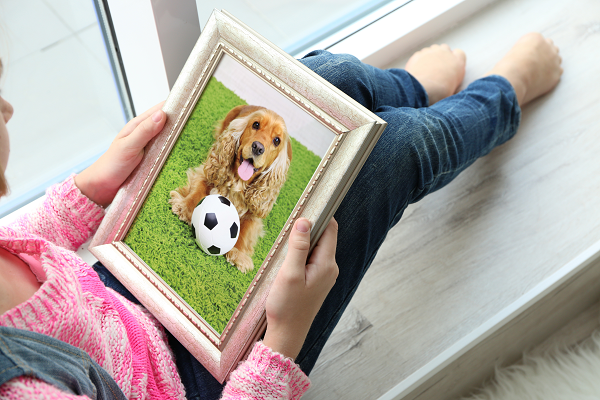 Tuesday, June 13th, is World Pet Memorial Day – a day to remember all the pets we have known and loved, and to celebrate them for all that they brought into our lives.
Pets can bring so much love, joy, and purpose to our lives. They often are members of our family – our furry, scaly, and feathered children, siblings, and the very best of friends. We share our couches and beds with them, we turn to them for comfort and affection, and we confide our deepest secrets and fears in them. Our pets don't judge us and are always waiting to welcome us home and brighten our day.
Advances in veterinary medicine are allowing animals to live longer, healthier lives than ever before. However, the progression of time is inevitable, and our pets must leave us one day, sometimes much sooner than we would like. Why not continue to honor your beloved animal companion beyond just your memories?
There are many ways to commemorate the much-loved creatures that hold a special place in your heart.
Take the time to remember. It's always difficult losing someone we love, so take the time you need to grieve for your pet and also remember them as time marches on. Spend some time looking at old videos or photographs of your pets, if you have them, and remembering all the love and joy they brought into your life. Share stories about them with friends and family, and make sure they're not forgotten.
Visit your pet's burial site. People visit their deceased human relatives in cemeteries all the time, so don't be afraid to do the same with your pets. Make the site special; add a small grave marker or inscribed tombstone to mark the spot. Many people feel comforted knowing their beloved pet is resting peacefully nearby and being able to visit them brings peace and acceptance.
Plant a living memorial for your pet. It could be in your backyard or a public spot available for citizens to plant trees or flowers. Whether it's a whole flower bed in your yard or a tree in the park, a living memorial can be a special testament to a special animal.
Keep a memento in a special spot. Some people find it comforting to keep their pet's collar, favorite toy, or blanket in a special keepsake box, as a memento of their pet. The physical item can bring back fond memories of your pet, and encourages you remember the wonderful days you had together.
Contribute to a cause. Choose a charitable organization close to your heart that works with animals and make a donation in memory of your pet.
One of the best ways to remember your pets that have passed is through your actions with animals that are still with us. When you're ready, adopt a new pet from a shelter – an animal that needs a loving home. Volunteer at your local animal shelter or activist organization helping local animals. Foster pets who are waiting for a new home. There are many ways to remember and honor your pets that have gone, and just because they're gone, does not mean they're forgotten. A beloved pet will always hold a special place in your heart.